I see you have decided to visit page 2.
That must mean you are a true Saved By The Bell fan.
There have been many great episodes of Saved By The Bell however, the best ever episode is the episode where Zack and Slater get into a fight.
This page is devoted to this episode.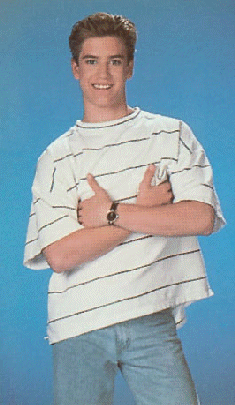 This is the first episode in which everyone is a senior.
The episode starts with Zack explaining the joys of being a senior. In the beginning everyone is talking about the Welcome Back Senior Dance.
Lisa decides to ask out a guy named Darin little does she know Darin is a Freshman OH NO!!!!

Then while Zack is at his locker he meets Jo Ann a new student at Bayside. Zack likes her from the start.

The episode then switches to science class in which so conviently Slater, Jessie, Screech, Lisa, Kelly, Zack and Jo Ann are all in the same class. Well Zack arrives a few minutes late which gives Slater the chance to meet Jo Ann. Slater and Zack later are talking about the girl they just met earlier. Little do they know they are talking about the same girl.

During class the next day Slater and Zack both sit next to Jo Ann and get themselves in trouble and assigned extra homework. Zack feels bad so he tells Jo Ann to come to his house to study and Slater is jealous so he tells her to go to the movies the following day with him. She accepts both there offers. While studying at Zacks house Slater has the plan of all plans. Throughout the lifetime of Saved by the Bell Slater has never had a better idea than he does in this episode. While Zack and Jo Ann are studying he shows up at there house and says he owes Zack some money and to pay off the debt he starts vacuuming up Zacks room just to interfere with Zack and Jo Anns study date.

Well Zack is not happy so he devises his own plan which is not nearly as clever as Slaters he simply ruins there movie date the next day. Well both Zack and Slater are mad at each other now. And the next day in school Slater confronts Zack and one thing leads to another and they get into the best fight ever shown on television. In my opinion Slater destroys Zack. Then by the end of the show they become friends again.

This is the greatest episode ever. If you have never seen it I recommend you watch it immediately. If you have seen this episode I am sure you will agree with me that it is great...

For your viewing pleasure here are the 2 greatest scenes from this episode. Since this is the best episode ever it would also mean they are the 2 greatest Saved By The Bell scenes ever.

Click here to download scene 1
Click here to download scene 2

Well after viewing the famous fight scene I know everyone has an opinion on who they think wins the fight. Please take a minute and cast your vote on who you think wins. Just click below where it says vote:






Click Here to go to the startpage
Email Me At:sbtb2001@yahoo.com